Shopping Cart
Your Cart is Empty
There was an error with PayPal
Click here to try again
Thank you for your business!
You should be receiving an order confirmation from Paypal shortly.
Exit Shopping Cart
Red Line Book Festival Event: 7pm 13th November, Clondalkin Library

My name is Shauna Gilligan and I'll be reading from my debut novel Happiness Comes from Nowhere at 7pm on 13th November in Clondalkin Library. Nothing gives me more joy than to hear readers engage with my writing – everything that they bring to my novel, all that they see in it that perhaps I'd not quite intended; part of the story not quite understood or maybe understood too well, too close to the bone.
How often have we heard the phrase to write well, you have to read well? I'm a believer of this though I have to admit that there was a time when I feared that what I read would seep into what I wrote. I even restricted my reading to'non-literary' things like magazines, newspapers etc. Here's the thing: my writing stopped. I felt bored. Barren, even. So I went back to reading. Reading anything I could get my hands on. Literary fiction. History books. Magazines. And the stories came; the writing returned. Why? Because, as any writer will tell you, everything around us appears in our writing: invisible or otherwise.

And this brings me back to my evening with some serious readers in Clondalkin Library on 13th November. Thanks to South County Dublin Libraries and The Red Line Book Festival.
Book clubs – that place where you discover you like types of writers or books you'd never normally pick up let alone read. I discovered Philip Pullman in a book club, and, more recently, discovered Rani Manicka. I have to say, I am surprised and delighted by my new tastes.
So I hope that those who brave our chilly November weather on 13th will enjoy the sample of my writing that I'll read and that those who have read Happiness Comes from Nowhere, will take this opportunity to engage with a fellow reader who happens to also be a writer.
Looking forward to reading to and chatting with you next Tuesday at 7pm!
The Road to Publication – Louise Phillips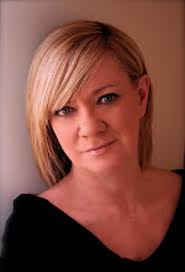 I stopped writing for 20 years, yet somewhere in the back of my mind, I knew one day I would write again.
When I nervously went to my first creative writing class in Old Bawn Community School in Tallaght, in 2005, my life changed. The class, facilitated by Eileen Casey, was my first tentative step back. That night I realised I would never, ever stop writing again. Driving home from the evening class, my head was alive with words. It was as if someone had opened a door to a room I had nearly forgotten existed, but once I walked inside; I met an old friend who had been waiting patiently for me to return.
There are no clear reasons why I stopped writing, and my story is not an unusual one. Like many others, I got married, had children, worked outside the home, paid a mortgage, survived. The intervening years between writing in my late teens, and returning to writing in 2005, were not unhappy years – far from it. But looking back, a part of me – a very big part of me; had been put on hold.
When I finished the 10 week creative writing course, I was eager to see where the journey would take me next. I heard Dermot Bolger, then writer-in-residence for South Dublin County Council, was accepting prose and poetry submissions for workshops early the following year. It was December, and over the Christmas holidays, I set about writing a 1,500 word short story for submission. The story was called The Fall of Snow. When Dermot contacted me to offer a place on the workshop, I was over the moon. I still remember driving into work that morning and thinking, if a writer as wonderful as Dermot Bolger had belief in me, then maybe, just maybe, I could fulfil the writing dream.
The workshops were amazing, and they were the absolute highlight of my week. Writing pieces for submission, getting feedback, and also meeting new friends, writing friends.
Writing is a very solitary process for the most part, and necessarily so, but friends, I've discovered are a huge part of the journey. Later that year, I read some of my poetry as part of the Annual Readers' Day, organised through South Dublin Libraries, and I also joined Lucan Creative Writing Group. The group met every second Saturday morning in Lucan Library. Hidden away in that small room at the back of the library, we shared our work with each other, each of us, developing our craft, and forming yet another step in the writing journey.
After a time, I began sending short stories into competitions. I didn't always get short-listed, or win, but each small success or failure, became another rung on the ladder of learning.
My first attempt at novel writing happened in 2009. It was a novel I was destined not to complete. I allowed self-doubt creep in – that dark voice within us all - the one that asks 'Who do you think you are, trying to do this? You can't be good enough?' It's often said that you learn a lot more from failure than success, and I learned from this experience. I learned that you have to shut out those negative voices, that your first draft is simply that, that the joy of writing is not the perceived success at the end, but the absolute love you have for the craft during the creation.
In the New Year of 2011, I finished my first draft of RED RIBBONS, my debut psychological crime thriller. At that point the only home my manuscript had was on my own pc. I had no idea if it was any good, but I was still proud of myself. At long last I had finished a novel. The story had a beginning, a middle, and an end, and even if the world didn't like it, the only thing that mattered to me, was that I had finished it.
After nearly seven years of working on my craft, with many success and failures, I submitted the manuscript for publication. I had done some research into the submission process, and decided to send the script to an agent who specialised in literary crime.
When I heard my novel, Red Ribbons, would be published, it was the most incredible feeling in the world. Then in September 2012, Red Ribbons finally hit the shops, becoming a best seller in the first week. A great many things formed the inspiration for Red Ribbons, but as a parent, the fear of something dreadful happening to my children at the hands of a stranger, was partly the reason why the story came to be.
I'm one of those writer for whom the characters become real, become part of my life. There are dark elements in the story, human emotions are tested, but I believe there is also so much more. To the best of my ability, I tried to explore human frailty, strength, love and loss, and I hope in the end, Red Ribbons, reflects a lot of light within the dark.
Above all else, writing stories, creating characters, I had the opportunity to fulfil a dream I've had since I first fell in love with books as a child. Growing up, our family didn't have a lot of money. We couldn't afford to buy books, but every week my mother would bring us to the library in Rathmines. I still remember the day I got my first adult library ticket, shortly after I made my Confirmation at school. Walking through the double doors of that beautiful library in Rathmines, I remember feeling a whole new world had opened up for me, the world of adult literature.
The first sentence of my acknowledgements for Red Ribbons, says, 'The creation of a novel begins long before the first word is written.' The beginning of my novel writing journey began on the stone steps of a very old but beautiful library in Rathmines.
In 2013, my second psychological crime novel, The Doll's House, will be published by Hachette. None of us can see into the future, but I'm living proof, that it's never too late. There are no guarantees - there never are, but if you have a passion for writing, or an idea you want to try, well I'm testament that you can at least give it your best shot.
Louise Phillips, Author of Red Ribbons
Louise Phillips, who will be speaking at November's Red Line Book Festival will launch her book this evening (5th Sept) in Hughes & Hughes on Stephen's Green from 6.30pm - Congratulations to Louise from all of us here in South Dublin Libraries. I read the book over the weekend...and all I'll say on this one is....unputdownable! For more information on Louise check out http://www.louise-phillips.com/
If you're in town this evening, why not pop into Hughes and get yourself a signed copy.
Copies of Red Ribbons have arrived at publishers for nationwide distribution!!! - Publication date 3rd September 2012.
/